January 15, 2019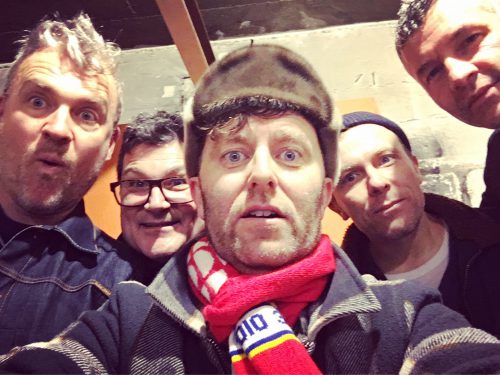 A few years ago, I teased my mom that she was maybe a little too old to be going to the Rolling Stones show down at the local stadium. Her answer: "Rock 'n' roll isn't
for
the young. It's what
keeps
you young. And besides, the Rolling Stones are older than me!"
From January 2017 to January 2019 -almost two years to the day- the Smugglers reformed to play six concerts in carefully selected North American venues and cities: 924 Gilman in Berkeley, California; the Commodore Ballroom in Vancouver, BC; the Horseshoe Tavern in Toronto; Club Saw in Ottawa; Amigos in Saskatoon; and El Corazon in Seattle.
Along the way, we got to rock out with several of our all-time favourite bands and some new ones too, including the Muffs, Chixdiggit, the Mr. T Experience, the Young Fresh Fellows, Pansy Division, Brent's TV, the Groovie Ghoulies, Duotang, the Garrys, Needles//Pins, the Stand GT, the Exploders, all the bands at the Lookouting, the Ottawa Explosion, the Seattle Pop Punk Festival.
We NEVER would have predicted such an embarrassment of live rock 'n' roll riches. Every show was an amazing experience. It was SO FUN!
We'd like to thank everyone who came out to these six shows, and travelled great distances to see us, especially our dear friends Frank Leone from New York City (four shows), Time Bomb Tom Smith from Green Bay (four shows), Billy Bones from Vancouver, (four shows), Sacramento Sandra (three shows), Heather Peavey from New York City, Pat "The Shanker" Shanks (three shows), Megan Barnes (three shows), our roadie Ska-T (five shows), and the Smugglers wives: CC, Kathy, Soraya, Polly, and Jill.
That's it for the foreseeable future, unless a REALLY great offer comes along (Vegas, hint hint).
Between the five of us, we have nine kids now, and only Nick's eldest (now 22) is the only offspring to have ever seen the Smugglers rock out live. Who knows what the future will bring as long as we're healthy and able?
If you missed it, read the book (
Dirty Windshields
).
See you in the front row,
Grant / Dave / Nick / Beez / Graham
Your Smugglers